I've had a lovely conversation with my mum tonight. We discussed her day, what she was going to do this weekend, how her best friend is feeling after being unwell and how fat another friend appeared when she called yesterday!!

She told me she had been to the dump (recycling centre /civic amenity site!) today to get rid of some cardboard and some
shredded
paper. "They take the Yellow Pages now" she chirped excitedly, ever the
eco
-warrior. "Now we don't have to throw it away with the rubbish."
"Yes, we've been recycling them here for ages" I tell her.
"I don't think they can recycle them." She says in a
disappointed
tone.
I am confused, what does she think they do with them?
"It's the colour!" she explains
"They must be very difficult to use again.
If only they could make the Yellow Pages white!"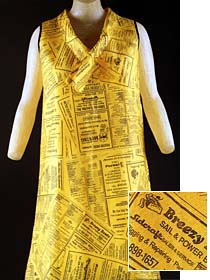 Sometimes I just can't find the right words!